Celebrating historic Cohoes, NY since 1994

Spindle City Historic Society Meetings – Join us the last Wednesday of every month at 7:00 p.m.
At the Cohoes Visitors Center, 58 Remsen Street, the ground floor of the Cohoes Music Hall.
Check back often for meeting updates and other timely information!
Recent Web Site Updates

Upcoming Events
Exploring the Canals of Cohoes
Saturday, May 20, 1:30 p.m., Cohoes Visitor Center
Cohoes began its rise to industrial prominence as a canal town. The Erie and Champlain Canals traversed Cohoes, and this network of waterways, along with abundant waterpower, made Cohoes a leader in the Industrial Revolution. On this walking tour, you will travel old canal towpaths where mules pulling barges once trod, see 160 year old limestone locks built by hand, and learn the history of this 19th century technological achievement. You will find out the different routes the canal took through Cohoes over time, hear stories of life in a lively canal town, and learn how transportation and power canals led to the growth of the Harmony Mills and other industries in Cohoes.
All are welcome to participate. Meet at 1:30 p.m. at the Cohoes Visitor Center, 58 Remsen St.
Sales
Cohoes Revisited

Cohoes : Postcard History Series

Cohoes

Copies of all three of our booka are available.

If you are interested in purchasing copies, please e-mail us at Books@SpindleCity.net. We can also mail books (for an additional charge) if you are not able to pick them up. When you purchase your books directly from SCHS, over 40% of the cover price helps support our exhibits, programming, newsletter and other activities.
George Stacey Davis Commemorative T-Shirts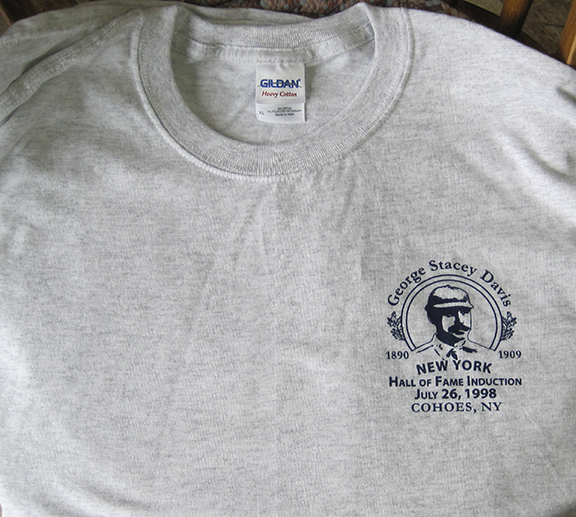 In recognition of the 15th anniversary of the induction of Cohoesier George Stacey Davis into the Baseball Hall of Fame, and the dedication of the George Stacey Davis sign in Silliman Park this June, the Spindle City Historic Society is offering this limited-edition George Stacey Davis commemorative t-shirt. The short-sleeve shirts are gray, with navy blue print. Shirts are $12 (in sizes S-XL), $14 for 2XL, $15 for 3XL, and $16 for 4XL. Youth sizes (S-XL) are also available. To order, contact us at wchernia@nycap.rr.com or at 518-237-5618.
Last Updated: December 20, 2017