Celebrating historic Cohoes, NY since 1994

Spindle City Historic Society Meetings – Join us the last Wednesday of every month at 7:00 p.m.
At the Cohoes Visitors Center, 58 Remsen Street, the ground floor of the Cohoes Music Hall.
Check back often for meeting updates and other timely information!
Recent Web Site Updates
July 1
, 2015 - Added 2 newsletters to the Newsletter Archive.

SCHS Annual Raffle

This year's raffle item is a wooden box with a woodburned image of a mastodon, created by artist Ellen Adamson. The rectangular hinged box is 11" x 9 ½" wide, and 4 ½" tall, and has a felt lining. The decorative border on the sides of the box is inspired by the spindles used in the mills of Cohoes. The raffle drawing will take place at the annual Christmas tree lighting in Cohoes on November 28. Raffle tickets will be mailed to SCHS members in September; additional tickets (at a cost of cost of $1 per ticket or 6 for $5) can be purchased at SCHS meetings and events, or by calling 518-237-5618 or e-mailing us at infor@spindlecity.net.
Upcoming Events

Walking Tour of former Schenectady & Troy Railroad
A Hudson River Ramble Event
County: Albany
Meeting Place: Cohoes Visitors Center 58 Remsen Street, Cohoes, NY
Description:
This walking tour will follow the route of the former Schenectady & Troy Railroad from the site of the "Crescent Station" at Loudon and Fonda Roads in Colonie south to Alexander Street in Cohoes, a distance of approximately 3.25 miles. As we walk the route, we will discuss the passenger stations, industrial sidings, grade crossings and bridges at various stops along the tour. We will also look at railroad artifacts along the route, which will help tell the story of the railroad. We will discuss the origins of the railroad in 1841, its inclusion in the New York Central System in 1853, the Penn Central in 1968, and its eventual abandonment in 1977 after the creation of Conrail.
Sales
Cohoes Revisited

Cohoes : Postcard History Series

Cohoes

Copies of all three of our booka are available.

---

If you are interested in purchasing copies, please e-mail us at Books@SpindleCity.net. We can also mail books (for an additional charge) if you are not able to pick them up. When you purchase your books directly from SCHS, over 40% of the cover price helps support our exhibits, programming, newsletter and other activities.
George Stacey Davis Commemorative T-Shirts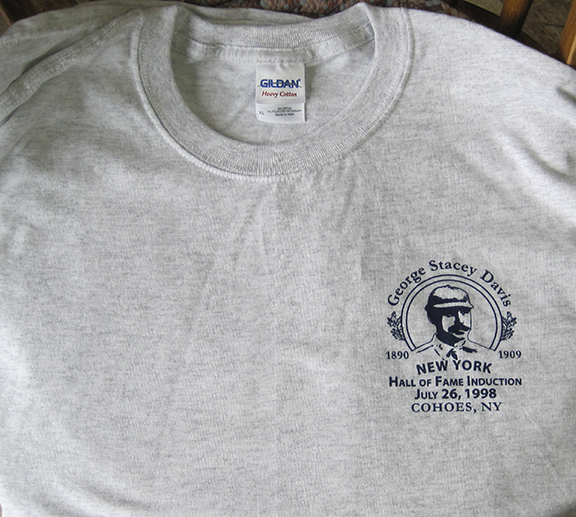 In recognition of the 15th anniversary of the induction of Cohoesier George Stacey Davis into the Baseball Hall of Fame, and the dedication of the George Stacey Davis sign in Silliman Park this June, the Spindle City Historic Society is offering this limited-edition George Stacey Davis commemorative t-shirt. The short-sleeve shirts are gray, with navy blue print. Shirts are $12 (in sizes S-XL), $14 for 2XL, $15 for 3XL, and $16 for 4XL. Youth sizes (S-XL) are also available. To order, contact us at wchernia@nycap.rr.com or at 518-237-5618. Shirts can also be purchased on the day of the George Stacey Davis sign dedication on June 8.
Last Updated: September 4, 2015